Weatherby Healthcare has a brand-new website and a fresh look! We're excited to provide the physicians, nurse practitioners and physician assistants we work with a better user experience. Here are five things to check out now:
Our simpler job board
It's easier than ever to find locum tenens jobs that fit your schedule! You can quickly filter positions by specialty, region and state to find the results that best match your criteria. If you prefer to see the latest jobs we've opened first, you can sort results by "date added (new)" instead.
Finally, the site offers a job queue where you can see your recently viewed and saved jobs. You can also review the jobs you've already applied for.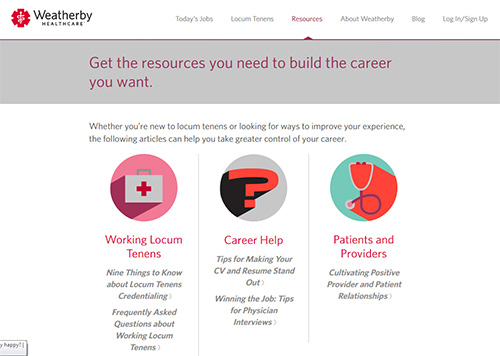 An all-new resources section
Whether you're a physician looking for a job or a hospital administrator trying to fill locum tenens positions, our resources section has the information you need.
Locum tenens FAQs, state licensing information, and tax tips
CV and interview guides
Advice for improving your relationships with patients
Effective recruiting and hiring strategies
Onboarding and retention tips
Financial articles, including billing for locum tenens providers and an infographic about the cost of turnover
Locum tenens tips for beginners
You don't have to know anything about locum tenens to work with us. We've provided several articles and videos about these temporary jobs to help you get started:
Video tutorials
A streamlined blog
The Weatherby Healthcare blog has been updated as well, with a cleaner design and a few new features:
A large image at the top of each post and featured stories you can scroll through in the right sidebar
The estimated time it will take to read the post and icons to quickly write a comment or share on social media
Dedicated author pages so you can sort by writer or search for a post written by that person
A refreshed logo and brand
Our logo is fresher and more contemporary, with a brand-new font and a streamlined icon. The website's color palette now incorporates shades of red and pink, and we've invested in new photography and graphic elements. You'll also find more videos throughout the site and interactive elements that simplify the job search process.
Check out the new Weatherby Healthcare website now — and let us know what you think in the comments below! We value your feedback and hope you like the updates.