Thank you to all who joined us at the 2016 Association of Staff Physician Recruiters (ASPR) annual conference in New Orleans, Louisiana! Nearly 570 people attended the event, held May 14-18, 2016, making it the largest conference in ASPR history.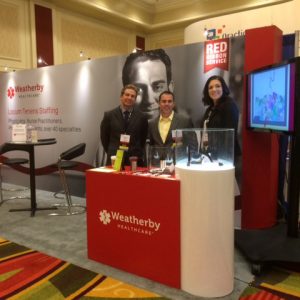 Four Days of Great Giveaways
Cindy Slagle, Marco Esposito, Justin Smith and Amy Coelho from Weatherby Healthcare met with hundreds of clients in booth 201 and gave away a pair of Christian Louboutin signature red-soled heels and a bottle of the designer's nail polish to two lucky winners.
Visitors also booked free 15-minute chair massages at the booth, got their Bingo cards stamped for a chance to win $100 in cash, and enjoyed beignet- and cajun-flavored popcorn. Nail files, pillow boxes with Tylenol and bags were among the other giveaways.
Meeting Old and New Friends
"ASPR was an amazing experience for me. After being with Weatherby Healthcare and calling clients for six years, it was so very nice to put faces to the voices I've spoken with all that time," says Justin Smith, senior medical oncology consultant. "The Christian Louboutin heels were again a huge hit, and I only wish we had more pairs to give away to all the wonderful people I met."
Conference highlights included keynotes from U.S. lieutenant general Russel L. Honoré, who spoke about what it means to be a leader, and founder and CMO and FutureSight Labs Seth Mattison, who spoke about the future of work, talent, innovation and relationships.
Fellowship modules, which allowed recruiters to become certified as fellows of ASPR (FASPR), were available, along with breakout sessions from other FASPR members, physicians and PAs.
Weatherby Healthcare also sponsored two conference sessions on Wednesday, May 18:
How to Eat an Elephant: Mobility and Social Media in Physician Recruiting, with 
Steven Jacobs
The Business of Healthcare: A Primer, with Andrew Thompson
"As always, ASPR was a fantastic opportunity to network with both existing and prospective clients. ASPR had record attendance this year, and New Orleans was the perfect venue to strengthen existing partnerships and open doors to new relationships," says Cindy Slagle, director of business development. "We felt the conference was one of the most productive events Weatherby has attended."
Tips for Physician Recruiters
In addition to getting to know you, we also had the chance to share some tips about working with locum tenens and healthcare staffing companies. In case you missed us, here are a few tips that could help you with your physician recruiting:
Provide locum tenens physicians with adequate onboarding time. Familiarize visiting clinicians with your facility ahead of time. Virtual tours, for example, allow them to get a feel for the physical setup. An online orientation process allows providers to complete various steps prior to reporting for duty. Even information about parking, equipment, or software can help locum tenens professionals ease into your system as quickly as possible.
Use video interviews to screen physician candidates. Flying in out-of-town candidates sometimes just isn't feasible, including locum tenens providers. As a substitute, telephone interviews have been the norm. While these conversations give participants a chance to speak, they don't provide nonverbal cues like an in-person interview. Video calls, however, are the next best thing. They allow for face-to-face interactions, and apps on phones, tablets, and computers mean an ever-growing number of people have access to these programs.
Work with a staffing agency that provides specialty-specific recruiters. Some of the smaller staffing agencies may focus on just a few medical specialties, or task one recruiter with managing providers from multiple specialties. At larger companies however, each recruiter is focused on just one specialty, which allows him or her to know intuitively what makes a desirable—or undesirable—provider in that specific field.