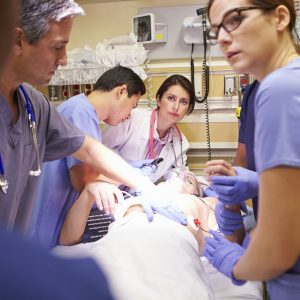 By mid-January, as reported by Pharmacy Times, influenza was prevalent throughout the country. According to the Centers for Disease Control and Prevention, every region had been reporting high levels of influenza-like-illness for several weeks, and there was no indication the season had peaked yet. Whenever there's a widespread illness, like the flu, it's typical for hospitals to receive an influx of patients which, in turn, increases demand for physicians and advanced practice professionals.
So, how does your facility handle temporary spikes in staffing needs?
Supplementing your staffing options
Seasonal issues aren't the only reason why a hospital's patient census may climb for a period. There could be increased consumer demand for certain procedures, or simply the community has experienced a growth burst, and therefore, is home to a larger population—more residents mean more individuals who require medical care.
Of course, hospitals are compelled to address inflated staffing demands to avoid gaps in patient care as well as to maintain revenue flow. But expanding the permanent staff roster may not be your most viable option, especially if the influx is a temporary situation and not a long-term phenomenon.
The process of identifying, credentialing, interviewing, and relocating a physician to bring onboard permanently can be a costly and time-consuming process. Simply put, this approach doesn't allow the flexibility required to quickly address temporary patient influxes.
What's more, overstaffing could cut into revenue. For example, when the flu season dissipates and the hospital census drops back down into average ranges, maintaining an expanded clinician roster, which includes salary and benefits, may not support your organization's fiscal goals.
A strategy that includes working with locum tenens staffing companies that represent skilled, quality providers, however, builds in a degree of flexibility that empowers facilities to address short-lived patient influxes, as well as other scenarios, that demand extra clinicians. Here are a few examples of the more common opportunities in which locum tenens providers are utilized, and why this strategy pays off for both facilities and patients.
Support seasonal swings. As noted above, there are times during the year when facilities incur greater caseloads, such as the flu season. However, influenza isn't the only seasonal factor. Certain areas in the South, for example, are popular destinations during the winter months for snowbirds, many of whom arrive with chronic conditions that require ongoing medical attention. A greater population of senior citizens places more demand on the area's facilities. Locum tenens professionals can absorb some of that patient influx and avoid overworking current personnel.
Expand availability of specialists. Small and/or rural facilities may not have an ongoing need to support a broad array of specialists full time. But that said, there could be individuals in the community who need that expert knowledge. Bringing in locum tenens physicians experienced in specific specialties expands a hospital's offerings and increases patients' access to care locally.
Staff surgical centers. Locations that attract outdoor enthusiasts—i.e., ski towns, whitewater-rafting regions, or popular surfing beaches—also tend to experience high rates of injuries associated with recreational activities. Having orthopedic surgeons in town during peak tourist seasons helps to readily address these incidents without automatically transporting patients to larger facilities.
Open new units. When hospitals expand services to accommodate growing demands, locum tenens professionals can assist with the transition period until the unit is fully staffed with permanent personnel.
Increase efficiency. When people have to endure long waits to be seen by a physician, their satisfaction decreases. Having locum tenens nurse practitioners and physician assistants on site, however, can improve efficiency. These advanced practice professionals can conduct numerous routine procedures, thereby easing the doctor's workload and cutting wait times.
Improve physician retention. Even without boosts in caseloads, overworked and overstressed clinicians can burn out, which can affect retention rates as well as level of care. If your full-time doctors request an extended vacation or leave of absence due to their own health or personal circumstances, a locum tenens provider can substitute so patients continue to receive care.
While it's difficult to accurately predict when, to what degree, and for how long a hospital will experience a patient influx, leveraging locum tenens professionals during these periods provides hospitals the flexibility to address the situations quickly and cost effectively.