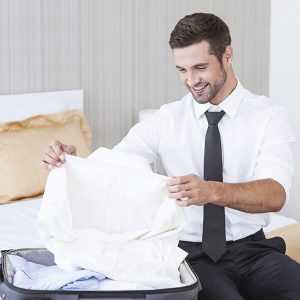 Locum tenens providers are no strangers to travel. The opportunity to explore new locations all over the country is often part of the attraction of accepting locum tenens assignments. Less exciting, perhaps, is the obligatory packing that precedes each trip.
Check out the tips below to streamline this process so you can arrive at your next assignment prepared and worry-free.
Use your consultant
As with every aspect of your locum tenens career, your consultant is your best resource. At Weatherby Healthcare, he or she is your single point of contact for any questions you may have, even those regarding packing. So contact your consultant to find out exactly what your new digs will offer. If you're staying in a hotel, do they provide, say, workout clothing and equipment? If you're in an apartment, will you have laundry facilities, bedding and necessary kitchen amenities?
Stay neutral
A wardrobe comprising neutral-colored clothing affords the ability to create many outfits with a limited amount of clothes. Blacks, whites, and tans are typically interchangeable when piecing together what to wear. But if you're staying more than a few days, you may also want to throw in one or two colorful pieces for special occasions or days when you want to wear something different.
Do some research
If you're going to a different part of the country, research the climate before you pack. Outerwear that works in Virginia probably won't keep you warm in Maine. If you are going to a cold-weather area, you may want to take layers so you can be prepared but still have options.
List the possibilities
With different regions come different recreational and cultural opportunities. Jot down some local activities that appeal to you and the attire needed for each one. Will you need a formal outfit to attend a concert? Hiking boots for new trails or golf clubs for a nearby course? If you want more cumbersome equipment to pack, such as a bicycle or ski gear, call ahead and inquire about rentals.
Consider in-home entertainment options
There are likely to be nights or weekends when you prefer to simply relax in your home away from home. For those occasions, going electronic can save you considerable suitcase real estate. Leave the books and DVDs behind and opt instead for e-books and a movie-streaming service, such as Netflix, Hulu, or Amazon.
Highlight essentials
In a pinch, you can buy a replacement for almost anything you forget to pack. For those few irreplaceable—or very difficult or expensive to replace— items, keep a checklist handy to refer to before every trip. That list may include things like medications, glasses and sunglasses, a special pillow or blanket, a specific wall or car charger, your favorite tea or snack, and snapshots of family, friends, and pets.
Pack like a pro
When it's time for the actual packing, everybody has their own preferences for maximizing space and avoiding wrinkles. For some new suggestions, check out Mashable's six efficient tips from suitcase-packing professionals. There are also countless apps to help raise your packing prowess. Some of the more popular include TripList and Packing Pro. And if you're looking for hands-on assistance, check out DUFL, a company that maintains your clothing, accessories, and toiletries at its warehouse and provides you with an app for virtual packing.
Taking some time to research your new area and organize your packing strategy before you leave home can ensure a positive, stress-free experience once you arrive at your new location. Fortunately, as a locum tenens provider, you will likely have many chances to perfect this process as you head out to treat patients and explore towns and cities wherever you like, as often as you like.