Earlier this year, Dr. Carlos Garcia received a thank-you note from one of his patients on whom the cardio thoracic surgeon performed a triple bypass.
"Merely saying 'thank you' seems inadequate, but please know my gratitude is most sincere," the person wrote.
It may not be unusual for doctors to receive notes from their patients, but there's a perception that this nicety doesn't get extended to locum tenens professionals or that they are denied the opportunity to build worthwhile relationships with patients. According to a survey by CHG Healthcare, 12 percent of responding physicians believe short-term assignments hamper their ability to forge connections with the individuals they treat.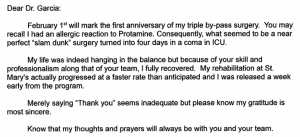 However, that's not been Dr. Garcia's experience. In fact, this was not the first patient he's cared for during a locum tenens job who has written to express their gratitude.
"I've been very pleased about those letters. It feels like you're making an impact," he comments.
Making a Connection with Patients
As a surgeon, Dr. Garcia is accustomed to limited interaction with patients, at least in comparison with primary care specialists who traditionally see individuals over a span of years.
"Surgery, especially cardiac surgery, is very episodic," says Dr. Garcia. "You see people for short periods of time."
That said, he believes there's no reason not to put in the effort to form connections. Nor does he view the brevity of locum tenens assignments as a hindrance.
"Taking a little extra time with the family or patient is the way I've always practiced. It tends to make a big impression on them because it's such a stressful time for families and patients," he says. "I've never felt like patients or the staff I work with on assignment are thankless. And, the things that pay off in one location, pay off anywhere."
Finding Work/Life Balance through Full-Time Locums
Currently, Dr. Garcia accepts locum tenens opportunities full-time; he worked approximately 200 days last year. However, it's not the first time in his career that he's worked locums. Years ago, a situation arose at the facility where he was on staff that compelled him to seek a new position, but Dr. Garcia didn't want to rush into a new permanent job right away.
"I really was trying to find myself and thought I'd just go somewhere and work," he remembers.
That was his first locum tenens experience, and Dr. Garcia admits it changed his opinion of the career alternative. For years, he belonged to the school of thought that you join a practice or facility after residency and that's pretty much where you stayed for most of your career.
"It just wasn't common to find somebody moving around in mid-career," he says.
After that first assignment, and seeing first-hand what thorough credentialing is in place, Dr. Garcia changed his mind about locum tenens. And that's why he resumed accepting short-term contracts a few years ago.
"The reputation of locum tenens has certainly changed," he says.
This time, the surgeon was looking to strike a more satisfying work/life balance.
"I just wanted to get control of my schedule again," says Dr. Garcia.
With a daughter still at home readying to graduate and an adult child preparing to give birth, he hopes to be able to configure his locum tenens schedule to attend important family events such as these.
"Locum tenens is helpful in that I can plan my time," he explains. "The rigors are far less when you control your schedule."
Personal Satisfaction
After practicing for nearly 40 years, Dr. Garcia still feels motivated and invigorated by how he can help patients, and he attributes much of that positive energy to locum tenens.
"If I was in a permanent job somewhere, I might actually be retired by now simply because I know what a compromise it would be for my schedule. It's very affirming to do locum tenens and be appreciated in other programs," he concludes. "It makes me feel pretty good."