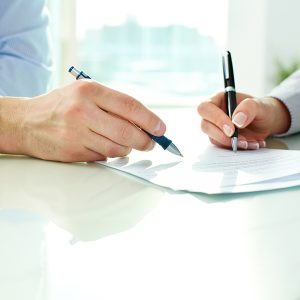 From booking dates to calculating pay rates, there are many steps before a physician takes a locum tenens job. Many of the details are confirmed before they're even presented for your consideration, but you still have a chance to provide feedback. In fact, contract and salary negotiations are not finalized until the locum tenens professional signs off in agreement.
Find out how locum tenens contracts come together and learn about some of the factors that influence certain elements, such as pay rates.
Defining details
The first step is for the locum tenens company and facility to define the need for supplemental staff. This includes describing the practice scope, determining length of coverage, and clarifying any other information. Locum tenens physicians, physician assistants, or nurse practitioners must make an informed decision about accepting a short-term contract.
Calculating rates
Once presented with a possible locum tenens opportunity, you have a chance to review the contract particulars. These include start and end dates, facility size, patient population characteristics, and extent of ancillary staff. However, other elements of an assignment may be open for negotiation, including pay rates. Locum tenens providers generally are welcome to voice their thoughts and perhaps issue a counter offer. In order to propose a competitive rate, take these factors into consideration.
Specialties: High-level specialties often command top dollar because patients tend to need more critical care. For example, an orthopedic surgeon most likely will be awarded a greater rate than a family practice physician. The same philosophy applies to facility type. Contracts at a level I or level II trauma hospital will offer more than assignments at a community urgent care center. Additionally, facilities may be willing to compensate for a doctor's depth of experience.
Caseloads: In some instances, pay is tied to the caseload. One hospital with a high patient caseload per physician might offer a higher rate than another where the work is distributed more evenly among staff and locum tenens providers.
Geography: Different regions support different salaries for permanent staff, so it's natural that the same economic theory applies to locum tenens providers. Urban areas with a higher cost of living typically afford higher pay than smaller, rural communities.
Urgency: A contract that calls for immediate locum tenens service oftentimes carries a premium rate because it's an urgent staffing situation.
Hard-to-fill openings: Facilities having difficulty permanently filling staff positions may raise locum tenens rates because of the existing need.
Contract confirmations
As soon as you, the facility, and staffing company agree to the terms, you must authorize the contract. Weatherby Healthcare also attaches a confirmation letter reiterating all the conditions negotiated for that specific short-term opportunity. The next step is preparing for your assignment and completing the licensing and credentialing process.
If you have questions regarding contract specifics or salary negotiations, call your Weatherby Healthcare consultant today.