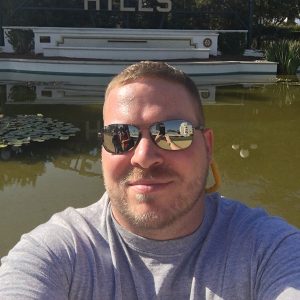 A call from Weatherby Healthcare came at the perfect time for nurse practitioner John Bernhard, who desperately needed a change of pace.
"Weatherby Healthcare found me when I was in dire straits. My sister gave birth to a healthy baby the same day my grandfather died — all in the same hospital where I was working in the ICU," John recalls. "That day radically affected me. I wasn't able to save my own grandfather when I was able to save so many others."
Making a fresh start
John had just quit his job when Michael, who would become his consultant, called about locum tenens jobs. He knew it was the answer he'd been looking for.
"I was always interested in traveling when I was in school and then working as a bedside nurse, but I didn't have nearly enough knowledge or skills," John says. "It seemed like the perfect time to kind of run away from home — which is exactly what I did."
Simplifying your schedule — and your job
One of the biggest benefits of locum tenens for John was leaving the stress to his Weatherby Healthcare consultant.
"As a traveler, everything down to a toothbrush holder is provided for you. Michael called me every week without fail, and I didn't have to deal with problems," John says. "I didn't have to work extra hours if I didn't want to. I literally only had to deal with my patient load, and I couldn't be given more than a certain number of patients. Weatherby made it easy to do my job, and I never felt pressured."
Setting aside time for travel
While on his locum tenens assignment in Arizona, John made sure to explore as much of the West as possible — especially since he had four days to travel between work shifts.
"Literally every week I could go on a vacation. I saw more in eight months in Arizona than in eight years back in Atlanta, Ga.," John recalls. "I would go to Disneyland one week, the Grand Canyon the next, then head to Las Vegas, go up to Zion or Bryce Canyon National Park, and drive down to Phoenix. I could have never done that if I wasn't working locum tenens."
Creating a schedule that works for you
While it was hard for John to be 2,000 miles away from family, he says the benefits of locum tenens jobs outweighed the challenges.
"Locum tenens gives you the flexibility to practice in multiple, different locations with multiple providers," John says. "It allows you to travel, be supported by an extensive team behind you, and experience new way of practicing in your chosen field of healthcare."
Enjoying a career as a nurse practitioner
With six years of experience as an NP behind him, John is happy with his career choice. He loved his time as a nurse but wanted to have the fullest scope and range of practice possible.
"Being an NP is the best of both worlds: nursing and medicine," he says. "I can understand how physicians and nurses think. And in most states, I may practice as independently as possible without need of physician oversight. I have the luxury to take time to fully treat patients."
Learn more about National NP Week, and check out our open nurse practitioner jobs!