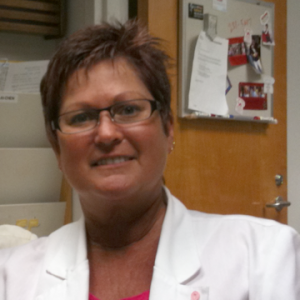 Nurse practitioner Debra Scheidegger had just moved to a new area to be close to her aging parents. Unfortunately, finding a full-time position turned out to be difficult, so she began researching locum tenens jobs instead.
"When I worked as a registered nurse, I wanted to do travel nursing but never did," Debra recalls. "I finally decided to try locum tenens and found Weatherby Healthcare through my research. I should have done it sooner!"
Putting your staffing consultant to work for you
Debra has worked with Weatherby for more than two years now and says her consultant, Sergio, is great about helping her find assignments she loves.
"I call Sergio when I see a job or an area I want to go to and ask if he can find me anything there," Debra says. "He makes it easy to get a job throughout the country. I also know the travel people now and can talk to them when I need anything. I live a long way from an airport, and Weatherby has been great about coordinating flights to get me back home again."
Finding locum tenens jobs that fit your schedule
One of the things Debra likes best about locum tenens is the flexibility to work as little or as much has she wants.
"I was originally contracted to work 13 weeks in Albuquerque, N.M., and ended up spending nine months there because I kept extending my assignment," she recalls. "I can work a few weeks or a few months and go where I want to go."
Exploring new parts of the country
The Southwest isn't the only region that has Debra's heart. She made some great friends in the Pacific Northwest as well.
"Astoria, Ore., is one of my favorite places I've worked because it's like a miniature San Francisco with its hills and houses," Debra says. "The people there are so nice, too. Locum tenens is great because it allows you the freedom to learn new skills, see new things, and meet new people you otherwise would not have met."
Networking with other healthcare providers
It's challenging to gather references when you're first applying for locum tenens jobs, Debra says, so she recommends those new to locum tenens try to make as many connections as possible.
"As an NP, I often work autonomously, which makes it difficult to get references from people who've worked with me," Debra says. "Make sure you talk to someone wherever you go who can say they've worked with you. Also, let people know you'll be listing them as a reference and someone will be calling them."
New locum tenens providers should also travel with a partner, she says, so they have another person to consult with.
"You may work in places where you are the only provider, which is not a good place for a new graduate or someone without a solid nursing background," Debra says. "Find a partner or friend who wants to travel who has experience you don't have until you feel comfortable. It gives you someone to fall back on."
Providing care as a nurse practitioner
Debra says she loves being a nurse practitioner because she has no limitations on what she can do.
"I'm first and foremost a nurse and will always be a nurse, so I have that if I can no longer work as an NP," she expresses. "I had 20 years of nursing experience before I became a nurse practitioner. I know the ins and outs of healthcare, and it's a secure feeling to work in this capacity in medicine."
Learn more about National NP Week — and check out our open nurse practitioner jobs!