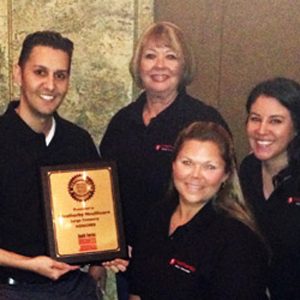 Weatherby Healthcare is honored to be named one of the South Florida Business Journal's 2014 Best Places to Work in the large-company category. The award for our fourth place ranking was presented Thursday, February 27, during a luncheon at the Signature Grande in Davie, Florida.
The event—sponsored by AvMed Health Plans and Comcast Business, in partnership with Quantum Workplace and Signature Grand—was attended by more than 420 people representing the 40 award-winning companies.
Each year, the South Florida Business Journal asks the area workforce to nominate employers who foster a highly engaged work environment, garnering hundreds of nominations from companies of all sizes, across all industries. Participants are then asked to explain what makes each employer one of the Best Places to Work.
This is Weatherby Healthcare's fifth year making the prestigious list, with our comprehensive benefits package, onsite amenities, performance-based incentives, and Putting-People-First culture ranking high among our employees.
As with many of Weatherby Healthcare's awards, it began with an anonymous survey of our employees. Our people were asked to answer a series of web-based questions in a completely open, honest manner, facilitated by data-science and employee-engagement-survey company Quantum Workplace.
The survey feedback, as well as a comprehensive company overview, was analyzed against other highly engaging companies in South Florida. Among hundreds of applications, only 40 companies—divided into small-, medium-, and large-size categories, based on employee count—were chosen to represent this year's Best Places to Work.