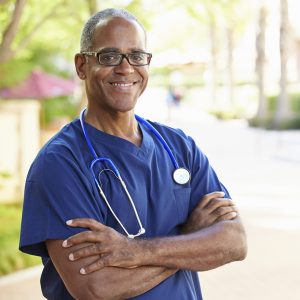 ​Nurse practitioners (NPs) have a role that's rewarding beyond measure. Through counseling, education, and quality care, they are able to help patients reach positive outcomes and live longer, healthier lives.
Nevertheless, NPs typically work 10- to 12-hour shifts—sometimes 24-hour rotating shifts, in hospital settings—and are often at greater risk of burnout than other professionals. In a recent post on OnlineNursePractitionerPrograms.com, Erica MacDonald, RN, BSN, MSN, offers tips to assist NPs achieve a healthy work-life balance. We're pleased to share them with you and offer one of our own.
Maintain a healthy diet – What we consume throughout the day serves as fuel for the body. MacDonald points out how tempting it can be to eat readily available, unhealthy foods. Eating fresh, healthy meals and snacks can provide longer-lasting energy and battle weight gain. MacDonald suggests shopping for healthy foods and drinks that are easy to consume at work. She also recommends leaving cash, coins, and debit cards out of reach, to keep the temptation to purchase unhealthy items at bay.
"Me" Time – Making a commitment to fit a little fun into your routine is just as important as getting enough sleep and maintaining a healthy diet, studies suggest. With as little as 30 minutes per day devoted to a hobby or a passion, many professionals are able to decompress after a long shift. As the OnlineNursePractitionerPrograms.com post conveys, your de-stressed self may be able to get more restful sleep and be better prepared—physically, mentally, and emotionally—for your next shift.
Keep up with Continuing Education – Not only is continuing education (CE) required for maintaining a nursing license, it also helps maintain a high-level of job performance and build confidence. Staying up to date throughout the year may also help to reduce work-related stress. Moreover, MacDonald encourages new NPs to develop a relationship with a work mentor who can provide support and encouragement.
Reflect on Career Decisions – Your professional and personal goals may change over time. Periodic self-reflection may help keep your work and personal life on track to meet these goals.Additionally, you may wish to consider changing your practice setting, schedule, or location. Pursuing locum tenens opportunities may provide enough of a periodic change of scenery to keep things feeling fresh and new. The locum tenens practice alternative can also give you more control over your schedule since you're able to determine how often you practice. And if you're looking for ways to reduce financial stress, working locum tenens can provide supplementary income.
Stave off Caregiver Fatigue – Many healthcare professionals experience caregiver fatigue at some point during their careers. Failing to recognize and address the symptoms and root cause can impact all aspects of your life, not to mention your ability to provide adequate patient care, MacDonald says.
Making continuous improvements to establish a flexible routine that allows for ample professional and personal time can lead to more workplace satisfaction and overall happiness. A healthy balance of work and personal time can also ensure you are able to administer the highest-quality patient care.