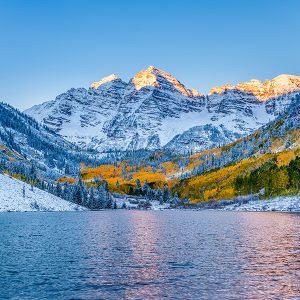 A skier's paradise, home to the majestic Pikes Peak and more than 50 towering mountains, and the location of the famous Mesa Verde cliff dwellings, the Centennial State is the perfect place for a summer or winter vacation — and it's also a great place to take locum tenens jobs. See why you should make Colorado your next destination.
Climb Ev'ry Mountain
You've heard John Denver's classic song "Rocky Mountain High" and are probably familiar with Colorado's most famous peaks. But what you might not know is that this state boasts 58 mountains that rise above 14,000 feet. If you love hiking, visit Maroon Bells first. With two peaks that tower above a reflective lake, these mountains are the most photographed in the Rockies. Just 10 miles from Aspen, Maroon Bells is worth a visit during any season, though it's only accessible by cross-country skis or snowmobiles in the winter.
Mount Elbert, the tallest peak in Colorado, boasts a 4.5-mile hike to the summit that gains 4,500 feet in elevation. If a strenuous hike isn't your style, the Leadville, Colorado & Southern Railroad offers a two-and-a-half-hour train ride with beautiful views of the mountain and its neighboring peaks.
Finally, your trip to Colorado isn't complete without a visit to Pikes Peak, the mountain that inspired the song "America The Beautiful." Rising above Colorado Springs, Pikes Peak offers 26-mile round-trip hikes along the Barr Trail, a scenic drive to the top along the Pikes Peak Highway, and a one-of-a-kind ride on the Pikes Peak Cog Railway, which sometimes reaches grades of 24 percent.
Explore the Mile-High City
Named for its exact elevation of 5,280 feet (or one mile) above sea level, Denver is one of the highest major cities in the United States and boasts easy access to three nearby ski resorts. The state capital is also home to the Colorado Rockies and Coors Field, the famous Red Rocks Amphitheater, and the Denver Center for the Performing Arts, the second-largest facility of its kind (after New York's Lincoln Center) in the United States.
Denver has eight professional sports teams, including recent Super Bowl winners the Denver Broncos, and is also home to several local breweries and the Great American Beer Festival.
See One-of-a-Kind Attractions
There's a reason Vail consistently makes the top 10 ski resort list in the United States. Even if you're not an avid skier or snowboarder, you'll love the picturesque city in summer and fall. Telluride is also known for its ski resorts and golf courses, and Breckenridge boasts a world-class resort and preserved downtown with colorful Victorian buildings.
Don't leave Colorado without visiting the Garden of the Gods Park, a registered natural landmark with 300-foot sandstone rock formations at the base of Pikes Peak. Cliff Palace, the largest cliff dwelling in North America, allows visitors to see sandstone, mortar and wood kivas built by ancient Pueblo Native Americans. Mesa Verde National Park is also home to Balcony House and several other cliff dwellings and just an hour from the Four Corners monument.
Are you convinced that the Southwest is the place to be? Check out our open locum tenens jobs in Colorado.