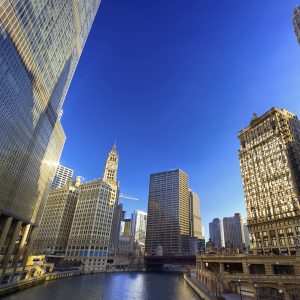 Mention the Midwest state of Illinois to people and they instinctually think of its largest city, Chicago. After all, it's been the backdrop to a lot of television shows, such as the current hits "Chicago Fire" and "Chicago PD" as well as the classic series "ER" and "Married with Children."
Numerous movies have been filmed there, too, including Sixteen Candles ('80s smash), North by Northwest (Alfred Hitchcock thriller), Ordinary People (Academy Award-winning drama), The Blues Brothers (Belushi and Aykroyd at their best), and the teenage cult hit Ferris Bueller's Day Off.
Currently, there are a number of locum tenens opportunities in the Prairie State for physicians specializing in emergency medicine, anesthesiology, psychiatry, and other areas of practice. If you accept a locum tenens assignment in Illinois, wouldn't it be fun to take a day or two to visit the landmarks you've seen on the small and big screens? Then again, why limit yourself? Chicago is only one city, and the state is full of interesting destinations brimming with character and beauty.
Shopping
Whether you're into high-end fashion, antiques, or farm-fresh food, you'll find it all in the stores, shops, and malls dotting the state's urban and suburban landscape, which is perfect if you like to prescribe a little retail therapy for yourself while on assignment.
The Magnificent Mile in Chicago
It's easy to spend an entire day and night within the one-square-mile area known as The Magnificent Mile. This shopping center runs 13 city blocks and houses more than 460 stores, 275 restaurants, and 60 hotel and entertainment venues. If you're fan of big-name fashion, you'll love shopping the creations of world-famous designers, such as Anne Fontaine, Burberry, and Ermenegildo Zegna.
Take a trip back in time while strolling down picturesque Main Street in Galena, a community of less than 4,000 people not far from the shores of the Mississippi River. The thoroughfare is flanked by 100 storefronts straight out of the 19th century where you'll find antiques, sweet treats, and one-of-a-kind specialty items.
Chicago French Market in Chicago
Foodies flock to the Windy City for its pizza and ribs. But if you really want to take a bite out of the town, head to this European-style market. Cooks appreciate the fresh products sold at vendors year-round. If you're challenged in the kitchen, pull up a chair and dine in for breakfast, lunch, or dinner.
Man-cation
A "man-cation" is a trip specifically designed around guys' favorite activities (but women can like them, too). Here are a few sites to include on a man-cation in Illinois.
Just how challenging can a golf course built on top of a former Naval Air Base be? Turns out, quite challenging. Designed by Tom Fazio, the greens and fairways test even the best golfers—some holes feature elevation changes up to 40 feet.
Carlyle Brewing Company in Rockford
Stop in at this specialty brewery for a first-class beer tasting. On any given day, it has a dozen or so of its 30 styles of brews on tap. Not sure what's what? Order a sampler tray, or stick with the homemade root beer.
Sheffield Baseball Club in Chicago
Skip the bleacher seats at Wrigley Field. Instead, watch the Chicago Cubs from the 9,000 square foot rooftop across the street. Settle into the stadium seating or belly up to the covered bar or grab a table under an umbrella. Don't worry about blocked views because you can watch the action on one of the plasma-screen televisions.
Shawnee National Forest
This Midwest mountain range may not have the grandeur of the Rockies, but the Illinois Ozarks at the southern tip of the state are impressive in their own regard.
Garden of the Gods in Karbers Ridge
You'll be awed by the majestic sandstone sculptures created by wind and water rushing over the bluffs for millions of years. Among the most popular structures are Camel Rock, Anvil Rock, and Devil's Smoke Stack.
Timber Ridge Outpost & Cabins in Elizabethtown
What better way to experience the great outdoors than to camp out in a treehouse or log cabin (with modern-day amenities, of course)? Plan a visit to the resort any time of the year.