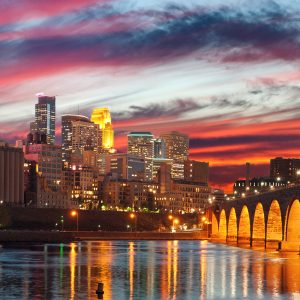 When a locum tenens contract brings you to a state nicknamed "Land of 10,000 Lakes," rest assured there is an abundance of water-related recreational outlets to explore.
From fishing to waterskiing to a day at the beach, Minnesotans flock to the water on warm, sunny days. Then again, you'll also see diehard fisherman out on frozen lakes throughout winter trying to land the catch of the day.
Away from the shorelines, Minnesota is a bit of a dichotomy. Its urban centers—such as Minneapolis/St. Paul (aka, the Twin Cities)—are filled with museums, galleries, and eateries serving international cuisine. Meanwhile, smaller communities unassumingly carry on local traditions, often reflecting the citizens' Norwegian, Irish, and German ancestry.
Altogether, Minnesota offers clinicians—such as physician assistants and other healthcare providers who may be there on locum tenens assignments—an interesting and eclectic array of activities and sights.
Fishing and Boating
Even if you don't consider yourself an angler or yachtsman, a trip to this Midwest state wouldn't be complete without some sort of water adventure.
Voyagaire Lodge and Houseboats in Crane Lake
Take a few extra days on either end of your contract to experience living on the water by renting a houseboat. If you're more of a land-lover, book a cabin or lake home.
Paradise Charter Cruises and Minneapolis Queen in Minneapolis
Choose your favorite time of day to enjoy a delicious meal while leisurely cruising around Lake Minnetonka. Or climb aboard the Minneapolis Queen paddleboat for a modern-day adventure on the Mississippi River.
Happy Hooker Fishing Charters in Duluth
Test your luck trying to hook lake trout, coho salmon, Chinook salmon, walleye, or muskies. Legend has it that the spot where Lake Superior waters spill into the St. Louis River offers some of the best fishing in northern Minnesota.
Historical Homes
While you may not associate Minnesota with magnificent mansions from the lustrous Gilded Age, some tycoons of the era chose to build their homesteads here.
R.D. Hubbard House in Mankato
This elaborate Victorian structure epitomizes the wealth R.D. Hubbard accumulated with his Hubbard Milling Company, which became the largest flour mill in southern Minnesota. Its 18 rooms still reflect the family's opulent tastes with touches of Georgian, Spanish, and Italian marbles and Brazilian onyx as well as silk damask wall coverings purchased in Paris.
Alexander Ramsey House in St. Paul
Alexander Ramsey played a pivotal role in early Minnesota politics. After serving as the region's first territorial governor, Ramsey was elected mayor, governor, and U.S. senator. Plan your tour of the historical home for one of the monthly happy hours hosted there.
James J. Hill House in St. Paul
As builder of the Great Northern Railway, James J. Hill embraced "modern" technology. His 36,000-square-foot mansion, completed in 1891, boasted central heating, electric lighting, indoor plumbing, security, and an internal communication system. Even by 21st century standards, the home's design is impressive.
Spring Festivals
Once the ice thaws and temperatures climb, outdoor festivals pop up around the Gopher State.
Rivertown Art Festival in Stillwater
For nearly 40 years, local artists have displayed their wares at the largest art fair in the St. Croix Valley. This year, organizers expect more than 100 artists and vendors to set up every weekend during the month of May.
Edina Art Fair in Edina
The first weekend in June marks the return of the Edina Art Fair in the fashionable 50th and France neighborhood. Hundreds of artists will showcase their original works. Don't forget to peruse the many shops and restaurants in the area, too.
Moondance Jammin Country Fest in Walker
Check out the stellar lineup at the ninth annual country music festival in northern Minnesota. Camp out all weekend, but don't wait too long to pitch a tent. Campsite reservations are available on a first-come-first-served basis.