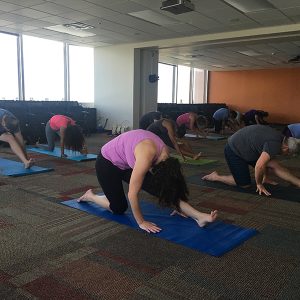 You probably know that Weatherby Healthcare is good at placing physicians, NPs and PAs in healthcare facilities around the country. What you might not know is that Weatherby strives to be a healthy workplace on its own — and has been recognized for those efforts.
Modern Healthcare recently named Weatherby the winner of its first Healthiest Award, which recognizes employers that promote wellness within their workforce. The award is part of the Best Places to Work in Healthcare list, on which Weatherby ranks No. 10 overall.
Here are just a few reasons we're a healthy workplace:
Free onsite healthcare for employees and their families
No need to take an entire day off just for an appointment with your primary care physician. Our Fort Lauderdale office has an onsite clinic staffed by two nurse practitioners and a medical assistant that provides acute care, including basic lab work, blood draws and clinical visits.
It's open to employees, their spouses and partners, and children six and older free of charge, regardless of whether employees are enrolled in our medical plan.
Employees and their immediate family members can also schedule free health coaching sessions, including stress management, weight loss and tobacco cessation.
24/7 access to a physician consultation service
For times when our employees can't make it to the doctor or are out of town, we offer Teladoc, a 24/7 physician consultation service. Free to employees and their family members, Teladoc connects callers to physicians in their home state who can consult with them over video or the phone and even prescribe medication for colds, the flu and other infections.
Onsite gym and fitness classes
Our employees don't have to join a local gym; we have fitness centers in both our Fort Lauderdale and Durham, N.C., offices for employees to use free of charge before, during and after work hours. We offer free yoga and dance classes and occasionally provide massages as well.
Healthy incentives through the WellnessPays program
To encourage our employees to make positive choices for their health, we offer annual discounts on our health insurance to those who complete our WellnessPays program. By getting a biometric screening each year, participating in our weight loss and fitness competitions, receiving flu shots and meeting other healthy goals, employees earn points toward a percentage off their healthcare premiums.
Bill Heller, president of Weatherby Healthcare, says the culture of having fun at work is important as well, whether someone's riding a scooter down the hall or showing up in a chicken suit.
"It's not only about helping people make good choices, like going to the health clinic and the gym. It's also about having people happy when they come to work. That makes for a more productive workforce," Bill says. "We really encourage work-life balance," Heller said. "So that people can take care of themselves — mind and body."