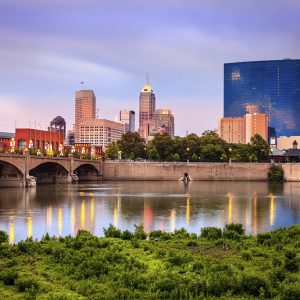 Nobody knows for sure why Indiana is affectionately dubbed the Hoosier State, but one popular theory suggests the nickname has been around since the high-tempered, gun-wielding frontier days, when showing up at a neighbor's home unannounced was risky business. To be safe, visitors would call out a greeting upon approach, and the typical reply—"Who's there?"—sounded more like "Who'sh'ere."
These days, "Hoosier hospitality" reigns. Come for the abundant locum tenens opportunities in Emergency Medicine and other areas of practice, and stay for the wide array of rural and urban attractions.
Enjoy the cultural amenities of Indianapolis and remarkable architecture in Columbus, hike and fish the state parks, or see some serious sporting events at the University of Notre Dame, Purdue University, or the world-famous Indianapolis Motor Speedway.
State parks
Indiana's nearly 100-year-old state park system is home to 600 miles of trails and nearly 40,000 acres of lakes, accessible by numerous boat ramps, marinas, piers, and beaches.
Turkey Run State Park in Marshall
The second Indiana state park to be established, Turkey Run offers hiking and horseback riding trails through deep, sandstone ravines and aged forests. Visitors can canoe or fish in Sugar Creek amidst plentiful wildlife. Other amenities include an Olympic-sized swimming pool, a nature center, and historic sites.
Falls of the Ohio State Park in Clarksville
Set along the Ohio River, this park is home to 386-million-year-old fossil beds. Instructional offerings include an interpretive center overlooking the fossil beds and an exhibit gallery with river and marine aquariums. Fossil collecting is prohibited, but exploring—as well as fishing, hiking, and bird watching—is encouraged.
Indiana Dunes State Park in Chesterton
This spectacular park is set along more than three miles of gorgeous beach on Lake Michigan's southern shore. Visitors come to hike, swim, or slide down the large sand dunes, some of which tower nearly 200 feet above the lake.
Historical sites
Throughout the state are testimonies to Indiana's fascinating history, much of which contributed greatly to our nation's development.
Lincoln Boyhood National Memorial in Lincoln City
The National Park Service oversees this still-working farm where one of the most influential U.S. presidents, Abraham Lincoln, lived until age 21. Experience a re-created 1820s homestead and memorials, and walk the trail of 12 stones, each from a significant place in Lincoln's life.
William Henry Harrison Mansion Museum in Vincennes
Nicknamed Grouseland for the abundance of game birds on the property, this Georgian-style home housed William Henry Harrison when he was governor of the Indiana Territory in the early 1800s. He later went on to become the ninth president of the United States.
Indiana Medical History Museum in Indianapolis
This monument to the beginning of scientific psychiatry may hold special interest for those in the medical profession. Set on the grounds of the former Central Indiana Hospital for the Insane, the building itself is the nation's oldest surviving pathology facility. Visitors will find scientific artifacts from the nineteenth and twentieth centuries displayed in an authentic setting.
Food and drink
Hoosier cuisine is widely known for two things: craft beer and pork tenderloin sandwiches. Enjoy them together, or separately, and leave room for dessert.
Indianapolis City Market in Indianapolis
First opened in 1886, this vibrant destination boasts a wide variety of eateries and hosts a weekly farmer's market. It's also home to the Tomlinson Tap Room, which partners with the Brewers of Indiana Guild to serve an ever-changing array of beer brewed by more than 100 local craft breweries.
Tenderloin Trail in Hamilton County
Pork tenderloin sandwiches are so popular in Indiana that rumor suggests you can find them in at least half the restaurants across the state. When in Hamilton County, make your way along the "tenderloin trail" to taste the subtle differences from 13 favorite restaurants.
South Bend Chocolate Company in South Bend
Take a 45-minute tour of this chocolate factory to see a collection of rare molds and a 1,600-year-old chocolate pot. Generous free samples ensure you leave with some homemade chocolate for the road.