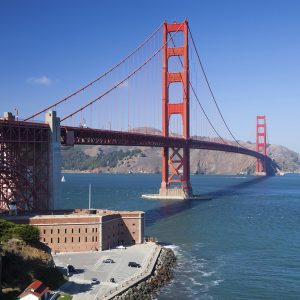 A locum tenens opportunity in Northern California could mean a stay in the heart of Silicon Valley, or in the state capital, or in an agricultural community located in the expansive central valley.
One of the unique characteristics about this half of the Golden State is there's so much diversity, from community size to geography to weather and people. Here's just a sampling of what Northern California has to offer a locum tenens provider on assignment in one of its unique locales.
The Black Chasm Cavern Cave in Volcano
Designated as a national natural landmark, the Black Chasm Cavern Cave has everything a spelunker desires, including stalactites, stalagmites, flow-stones, and rare helictite crystals. Also explore nearby California Cavern and Gold Cliff Mine, northeast of Stockton.
Historic Kingsburg Jail in Kingsburg
There aren't too many towns where directions to the local jail include, "You'll find it at the base of the coffee pot water tower, behind the main fire station." But Kingsburg, population approximately 12,000, holds that distinct honor. For nearly 50 years, local law enforcement relied on the tiny jailhouse built in 1925. But after a new, larger facility was constructed, the old building stood vacant and fell into disrepair. Then in 2008, the local historical society stepped in to not only restore the jail, but turn it into a creative art exhibit with life-size depictions of what it meant to do time in a country jail. Walk around back to catch an escape in progress. Go inside to witness how inmates served out their sentences, and watch a guard carry out his duties. It's quirky, but fun.
16th Avenue Tiled Steps in San Francisco
The city on the bay is a favorite with vacationers for so many reasons—World Series Champion Giants, Alcatraz, Chinatown, and even certain flavor profiles, such as sourdough bread. One of the most colorful reasons to get out and about in the city is the 16th Avenue Tiled Steps. More than 300 residents contributed to creating mosaic panels covering all 163 steps scaling the neighborhood hill. Each step is an individual scene of animals, birds, and fish. Gazing up or down the entire staircase gives you a complete view of this abstract artwork. Bonus: Walking the steps is great exercise.
The Winchester Mystery House in San Jose
There's no denying the Winchester Mystery House has a most perplexing floor plan. This is not your typical Victorian mansion. Stairways descend before ascending. Other stairways switchback multiple times so it takes seven flights and 44 steps to climb nine feet. Twisting hallways lead to secret passageways. Why such a bizarre blueprint? There are many legends surrounding this most unusual abode, however, the most frequently cited is that owner Mary Winchester, widow of gun-maker William Winchester, was trying to outsmart the spirits she believed cohabitated her home.
Sac Brew Bike in Sacramento
The capital city has developed a reputation for brew pubs and farm-to-table restaurants. Go on a tasting tour around town, using pedal power. Sac Brew Bike's Brew and Pub tours take up to 15 passengers on a party bicycle to a variety of beer gardens around Midtown. Each stop lasts about 30 minutes so you get to leisurely sip some of the local concoctions. The Pedal to Plate Culinary Bike Tour pops in at some of Sacramento's tastiest eateries, and bikers are served up sample menus and creative cocktails. Getting to each locale, though, is half the fun!
Northern California is a conglomeration of communities, each one with its own unique personality. Having the opportunity to experience those differences is just one of the many benefits to accepting locum tenens assignments in the Golden State.