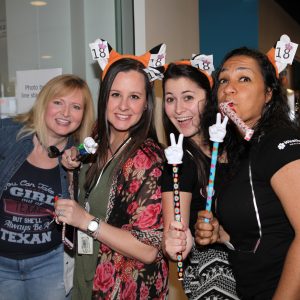 Our parent company, CHG Healthcare Services, was named to Fortune magazine's 100 Best Companies to Work For list for the seventh consecutive year! CHG ranks No. 18 on the list, which recognizes U.S. companies that provide a great place for their employees to work.
"We're honored to once again be recognized as one of the nation's best workplaces," says Scott Beck, CEO of CHG Healthcare Services. "It's our people who make CHG a great place to work. Their dedication to our core values and the work they do each day makes a meaningful difference in our communities and in the lives of the healthcare providers we serve — and ultimately the patients these providers help. That's what our culture is all about."
Hundreds of companies apply each year for the Fortune 100 Best Companies recognition, which requires an in-depth questionnaire about the company's programs and values and an anonymous employee survey. Companies are evaluated based on their credibility, respect, fairness, pride and camaraderie.
CHG offers many perks to its employees, including:
Volunteer Time Off: Each employee receives eight hours of paid time off annually to volunteer in the community.
Free Onsite Health Clinics: Employees and their families receive free onsite healthcare, including primary care services, health coaching, and disease management.
Employee Compassion Fund: Funded by employees, for employees, the compassion fund provides tax-free financial grants to help employees facing financial hardships.
The CHG Healthcare Services family of companies includes Weatherby Healthcare, CompHealth, RNnetwork and Foundation Medical Staffing and comprises seven total offices in Utah, Florida, Michigan, Connecticut, Oklahoma and North Carolina with more than 2,000 employees.
Check out the video below to see how employees across the country celebrated the Fortune win!