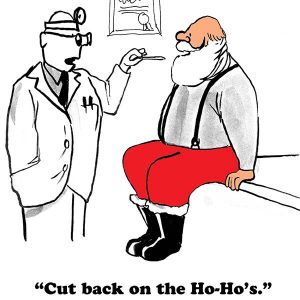 The calendar may confirm it's still summer, but it also signals a time to start thinking about your winter holiday staffing needs. Sure, Thanksgiving, Hanukkah, Christmas, and New Year's Day are still several months away, but staff members will soon be submitting their requests for days off during the holiday season, if they haven't already.
Planning ahead for the holidays
Do you have a strategy in place to cover for those members who will be absent for a few days or weeks in November, December, and into January? Not only is this a popular time to take a break from work, but these months also usher in one of the busiest periods for healthcare organizations as colds, flus, and other winter-related illnesses crop up.
For most facilities, the seasonal bump is temporary, and it doesn't make fiscal sense to incur the cost and time associated with recruiting new full-time staff to meet a momentary demand. Incorporating locum tenens physicians during peak periods, however, can be a cost-effective staffing strategy.
The additional clinicians ensure the facility or private practice maintains its level of functionality while doctors enjoy special occasions with family or end-of-year vacations. Their presence before and after the holidays also can help absorb some of the increased demand created by winter illnesses.
But is it really necessary to open locum tenens jobs so many months in advance? Believe it or not, the answer is yes. Read on to see why the middle of summer is an ideal time for hiring locum tenens physicians to fill in during the holidays.
Preventing last-minute fill-ins
Historically, hospital admissions and emergency room visits begin to climb during the holidays and can remain above average as winter progresses. Private practices also experience an influx of appointments for various respiratory complaints and other conditions on top of routine year-round requests.
Planning for increased demand months in advance will help your organization meet patients' needs by preventing service interruptions. Having the forethought to bring in additional clinicians will help ease increased stress on the staff as the pace picks up. For administrators and recruiters, early locum tenens bookings enable you to lock in rates and avoid fees associated with emergency assignments.
Securing supplemental staff
If facilities in your region and elsewhere in the country are experiencing increased demand for services, they'll be requiring additional clinicians, too. That expands the competition for qualified locum tenens physicians. What's more, the holidays are a special time for everyone, including locum tenens providers. They may want to take a break from accepting temporary contracts so they can celebrate with family and friends.
Don't be left scrambling to fill vacant positions come October, November, or December. If you start partnering with supplemental staffing agencies now, you greatly improve the odds of guaranteeing a clinician to cover during the holidays.
Choosing among top-tier candidates
As more and more facilities submit requests for locum tenens physicians, more organizations are vying for the best-qualified providers. If you're initiating the contracts for winter holiday assignments during the summer, chances are you'll be presented with a broader selection of clinicians to choose from.
Starting the credentialing process
One of the benefits of working with credible locum tenens companies is that their credentialing and licensing experts do a majority of the footwork in verifying physicians' education, professional background, references, and licenses and certifications. They also work with a facility's credentialing personnel to finalize hospital privileges. By beginning the paperwork now, you allow time to address questions that may arise along the way without creating delays that could push back start dates.
If you anticipate a spike in demand for services during the holidays, don't wait another moment. Contact a Weatherby Healthcare consultant today for help developing effective staffing models that will serve your facility, staff, and patients during some of the busiest months of the year.