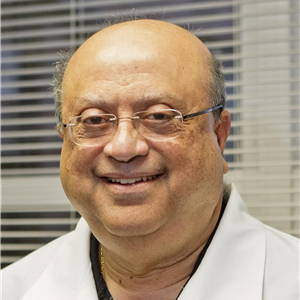 With a busy, full-time practice in New York to run, Dr. Prasanta Chandra was feeling bogged down and unsure how to free up some of his time. Fortunately, the OB/GYN visited Weatherby Healthcare's booth at the Society for Maternal-Fetal Medicine conference in 2014 and discovered locum tenens.
"I gain valuable experience and supplement my income when I take assignments, usually 10 days a month, but I'm able to continue working at my practice part-time, too," Dr. Chandra says. "Locum tenens is really convenient and a win-win situation for me and the other facilities. It's easy to take those calls."
Become a Better Doctor Through Locum Tenens Jobs
It's also easier for Dr. Chandra to take time off. He just returned from a two-week trip to India, which he says wouldn't have been possible while working full time.
"I have the freedom to pursue what I want to do and time in my schedule for new opportunities," Dr. Chandra expresses. "I am a better doctor when I work locum tenens because I'm more present — and that makes the patients and the staff feel secure."
Dr. Chandra is also happy with the service his Weatherby Healthcare consultant, Albert, provides.
"Albert communicates with me all the time and always calls promptly if there are any issues," he says. "Weatherby is fair and professional and pays me on time, and there is no ambiguity. I know the teams will stick to their word and never let me down. I have a great regard for those I speak to and am so glad I found them."
Take Ownership and Be Confident
With more than two years of experience in the career, Dr. Chandra is quick to offer advice to doctors just starting to practice locum tenens. He says they need to take the job very seriously to prove themselves to the new staff.
"I look at locum tenens jobs like I'm the CEO of the company. You have to act like you own the business and do whatever you can to make it successful," Dr. Chandra says. "Once you have this attitude, you can succeed in your jobs for the long haul. Get involved and people will notice and continue to hire you."
He also stresses the importance of confidence and being qualified for the job.
"You'll work with a diverse group of people who have to accept your leadership qualities and trust that you know what you're talking about — and there's not much time to exert influence on a short locum tenens assignment," Dr. Chandra says. "The screening process at Weatherby Healthcare helps, because checks and balances are good for the patients, and my recruiter gets feedback from my employer that helps me improve."
Be Home When You're Home
Life as an OBGYN will always be busy for Dr. Chandra, but he says locum tenens has made an impact on his work/life balance.
"I don't always get to see the final outcome of patient care when I work locum tenens, but I also don't get bogged down with the complexity of my work every day and am able to maintain my family life," Dr. Chandra says. "I don't bring home all these problems because I can be there and do the work."
Check out our open locum tenens jobs to jumpstart your career, and see why this OB/GYN made the switch from retired life to occasional locum tenens assignments.