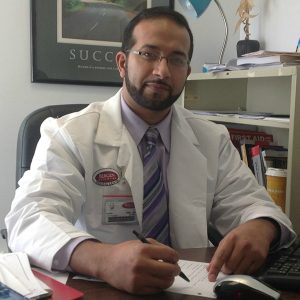 Dr. Imran Jamil, a psychiatrist from Connecticut, needed a change of pace. The long hours consulting with patients had taken their toll, and he craved a more flexible schedule.
When a client recommended he consider locum tenens assignments, he began researching opportunities and eventually took a a job with Weatherby Healthcare.
Working with the right staffing agency
"I heard a lot about Weatherby from my friends, so I decided to work with them, and it was a wonderful experience," Dr. Jamil recalls. "My consultant, John, was hardworking, responsible, efficient and approachable. I was 100 percent satisfied."
Though his assignment in Pennsylvania was his first locum tenens job, Dr. Jamil enjoyed the experience so much that he's already recommended the career alternative to others — and is planning his next adventure.
"The whole staff was very friendly, and working there was the best experience," he says. "Everything went smoothly, and John made sure whatever needed to be done was done on time. I was not expecting to work with such a proactive team."
Personalized help finding a job
Dr. Jamil says one of the biggest benefits of working locum tenens assignments is having a dedicated person to help you find a job and then fill out all the paperwork before you can begin there.
"Finding an assignment is difficult for me, and I worried about being able to take time off from my job to work locum tenens," Dr. Jamil says. "Weatherby's process is well organized, and I had the chance to go through all my documents and update them. John was in touch with me from the beginning and helped me work out my schedule, and he was in touch throughout the assignment."
When he isn't working directly with John, Dr. Jamil is in touch with Weatherby's licensing and travel teams, who simplify the application process as well.
"It's nice to have a person to speak to who knows what to expect and to have someone take care of your hotel and car and credentialing for the assignment," Dr. Jamil expresses. "My license was expired, and the licensing team even helped me get it renewed. You often don't have any time to gather all the information, and it's nice to have an advocate who can take care of everything."
Making the leap to locum tenens
Dr. Jamil says he's enjoyed his locum tenens opportunities so far, and his advice to people interested in the practice is simple.
"Try locum tenens at least once," he says. "My experience was wonderful, and I would like to work only with Weatherby in the future."
Want to experience locum tenens yourself? Check out our open psychiatry jobs.