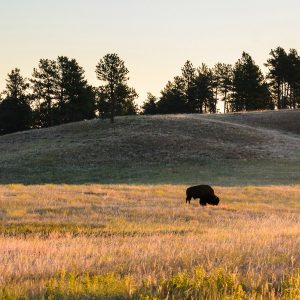 With open plains full of native bison, historic sculptures, and one of the world's largest motorcycle gatherings, South Dakota is a state full of hidden surprises. Find out why a locum tenens job in South Dakota might be the perfect opportunity.
Check out Mount Rushmore
While it might seem like a given, Mount Rushmore is certainly worth the trip. When you have some spare time, walk the Presidential Trail to get nice and close to the giant sculpture. Also, visit the Sculptor's Studio, where you can see how Gutzon Borglum, the artist behind Mount Rushmore, designed and modeled his masterpiece.
It's less famous, but Crazy Horse Memorial is an additional mountain monument still in progress. Just half an hour away from Mount Rushmore, you can combine the two in a day trip. Crazy Horse will be the world's largest sculpture when it's complete, so it's worth the time to see how progress is coming along.
Feel like a cowboy in Deadwood
Want to feel like you're in your favorite western movie? Visit Deadwood, about 80 minutes north of Mount Rushmore. The Black Hills Gold Rush brought thousands of men out to Deadwood, leading to a classic lawless western scene. A fire in 1879 forced most of Deadwood's residents to leave, so it's now a ghost town where tourists can tour the gold mine, watch reenactments of shootouts, and visit the shops that are still standing.
Spend some time at Wind Cave National Park
After you visit the monuments and cowboys, take a break and spend some time in nature. Wind Cave National Park offers amazing sights both above and below ground. With more than 30 miles of hiking trails, you can spend a weekend camping or go horseback riding for an afternoon. Below ground, there are five different options for cave tours, ranging from easy to strenuous, so you have plenty of options and places to explore. These caves are special—Wind Cave National Park was the first park created to protect the caves specifically, so don't miss out on them.
Are you ready to visit South Dakota and see these places for yourself? Check out our open locum tenens jobs in South Dakota.