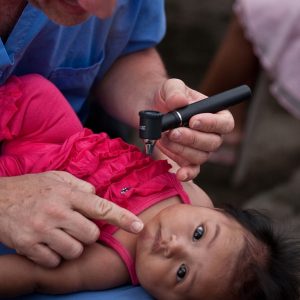 Bruce Banwart, MD, a pediatric intensivist, has 19 years of experience as both a pediatrician and critical care physician. The Kansas City, Missouri-based doctor enjoyed his private practice but was looking for a more flexible schedule—and he found it with locum tenens work.
"I wanted more freedom, a schedule I could set," Dr. Banwart recalls. "I was working in a stressful, busy environment and wanted to spend more time with my extended family."
When he began working with Weatherby Healthcare in 2012, Dr. Banwart knew he'd found an opportunity that allowed him to continue working but pursue other passions as well.
"You're able to travel, see new places and work with a whole new group of people, which can be exciting," Dr. Banwart says. "I choose my schedule, and I can choose where I want to go."
Providing Medical Care in the Philippines
One of the things Dr. Banwart likes best about locum tenens work is that it allows him to serve others around the world. In December 2013, he had the opportunity to be part of a disaster response team flying to Tacloban, a city in the Philippines hit hard by Typhoon Haiyan. Even a month after the typhoon hit, electricity had not been restored, and the volunteers slept in tents or on a church floor.
Despite the conditions there, Dr. Banwart was grateful to be a part of the relief effort.
"I volunteered to help with general medical needs, and by the time I had arrived, serious injuries had been cared for. I treated a lot of wound infections—but the patients also had psychological damage. So many people had lost family members," Dr. Banwart shares.
When a woman came into the clinic with a child, Dr. Banwart assumed he was her son. He soon learned that her two children had been killed in the typhoon, along with her sister, and her nephew (whom she had brought with her) was the only family she had left.
"She simply wanted to make sure this child was OK, and learning that he would be fine put her at ease," Dr. Banwart recalls. "The most rewarding part of my trip was experiencing the gratitude the people had for such a simple thing as a medical examination. We wanted to let them know that there are others who care."
From the Northwest to Inland Africa
When he's not on a plane or in a remote clinic, however, Dr. Banwart is just as at home at one of his locum tenens assignment locations.
"I enjoy helping small pediatric units get started," Dr. Banwart says. "You recognize that your assignment makes a difference."
A volunteer since 2006 with Operation Smile, an organization that provides free surgeries to correct cleft lips and palates, Dr. Banwart accepts medical missions throughout the year, even when he needs to leave directly from the Northwest and fly across the world—thanks to dedicated client reps who understand his need for flexibility.
"Weatherby Healthcare has bent over backwards in helping me schedule my time so I can continue volunteering," Dr. Banwart expresses. "I appreciate them helping to juggle my schedule."
And juggling is definitely required. Dr. Banwart is about to embark on his twenty-seventh mission, this time working in the Democratic Republic of the Congo and Zambia in Africa.
"I volunteered in Kenya and Madagascar in January, spent some time at home in Kansas City, and now I'm headed to an assignment before flying to Africa again," he says. "My life is more hectic now that I gave up my private practice, but it's rewarding to have the opportunity to volunteer."