In honor of National Nurse Practitioner (NP) Week,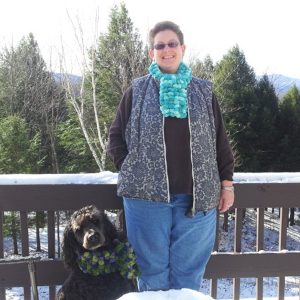 we recently spoke with Cindy Leiffer, NP, about her locum tenens experience.
Strong relationships are the bedrock of the important work we do at Weatherby Healthcare. Without positive connections and frank communication across the board—between peers; direct reports and leaders; business partners and vendors; and consultants and providers—we could not deliver our signature Red Ribbon Service or help facilitate the high quality of care patients in underserved areas deserve.
Cindy Leiffer, NP, can personally attest to the significance of these meaningful networks.
"About 10 years ago, I worked with a different locum tenens staffing company," she says. "Honestly, I cannot even remember my old recruiter's name."
According to Leiffer, the reason her former recruiter became so forgettable isn't because of something he did. Rather, it's the result of what he didn't do. "He wasn't a bad person, but he wasn't really invested in my happiness and success," she recalls. "That's a level of commitment and caring you just can't fake."
This recruiter's lackluster representation was underscored when Leiffer began working with Christine Shaffer, manager of Weatherby Healthcare's Advanced Practices team.
"Cindy and I had an instant connection," says Shaffer. "I really liked her and wanted to help her achieve her goals."
Leiffer took her first assignment with Weatherby Healthcare last October. She says she enjoyed her locum tenens assignments more than many of the permanent positions she's held over the years. A big part of her satisfaction stemmed from the relationship she enjoys with Shaffer.
"She's amazing," says Leiffer. "I look forward to Chris' phone calls and jokingly refer to her as my 'den mother.' When I decided to practice locum tenens, again, there were three recruiters I took seriously. Then, I narrowed it down to Chris and a recruiter from another agency, deciding I'd go with the person who came through for me first. Chris won. And I won, too."
Presently, Leiffer is back at home in the Northeast. While she recently accepted a permanent position, she says she likes having the option of taking locum tenens assignments, too. "At the moment, I need to be close to home for my family," she explains. "But I like the idea that I could return to locum tenens whenever I choose and even do it in addition to my regular job."
Shaffer adds, "Cindy knows I'm in her corner, no matter what. Our bond is greater than the duration of an assignment."
One thing's for sure; if and when Leiffer starts to explore NP locum tenens opportunities again, she will be doing so with Shaffer.
"Unlike my first foray into locum tenens, I now have someone who listens and understands what will be best for me," says Leiffer. "Chris is like a family member. She values our relationship and cares about me as a person. To me, that's the most important thing."
Happy National NP Week!