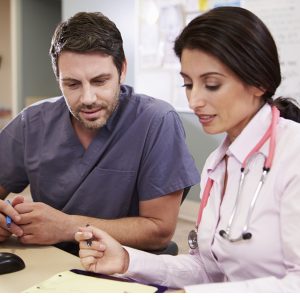 ​Physicians who do not transition from paper to electronic medical records (EMRs)—or are unable to establish "meaningful use" by next year's deadline—will, ultimately, face Medicare penalties, as reported by MedicalRecords.com. In response, some hospitals and clinics have adopted scribe programs, and a number of practices are seeking the services of qualified "managers of medical information," as well.
Medical scribes specialize in charting physician-patient encounters in real-time during medical exams. They must know how to enter the correct billing codes and be well versed in medical terminology. Additionally, they have to be great listeners, taking note of what both the provider and patient say.
When you arrive at your next locum tenens assignment, you may find you have the assistance of a trained medical scribe. Then again, if you have your own practice, you might be thinking about the ways a scribe could benefit you and your patients—and give you more flexibility and time to take locum tenens engagements. Read on to see why a number of healthcare professionals extoll the virtues of working with a scribe.
Better communication with patients. With a medical scribe shadowing every appointment, a physician does not have to split his or her focus between keying information into an EMR and examining the patient. "I can … introduce the scribe and have a seat and really give the patient full attention without worrying about missing a detail," says Chris Baugh, MD, former director of the Brigham and Women's Urgent Care in Foxboro, Massachusetts, in a recent article from WBZ, a CBS Boston affiliate.
More comprehensive EMRs. A scribe's key functions are to listen intently, and accurately capture the physician's assessment and treatment plan. Since the provider has to articulate the details of the visit appropriately for both the patient and the scribe, a more complete record—which can be checked and approved by the physician following the visit—is produced.
Increased patient satisfaction. Not surprisingly, patients prefer clinicians who are able to spend more time with them. Moreover, many people like hearing their providers speak expertly about their conditions and treatments, and are pleased to know essential information for their record is being carefully and amply documented.
Potential for greater reimbursement. In a Medscape article published earlier this year, Cheryl Toth, MBA, a consultant and writer at Karen Zupko & Associates in Chicago, Illinois, conveyed detailed EMR recordkeeping that adheres to regulations and guidelines may yield an increase in reimbursement. "Scribes create comprehensive, nuanced documentation that might improve reimbursement by allowing a physician to bill a higher level evaluation and management (E&M) code than he or she would have without this level of documentation," she said.
Greater work/life balance. A number of providers who utilize scribes say they do not have to put in extra hours to catch up on dictations, and are able to better enjoy the practice of medicine and their home life. "I would more than happily sacrifice a significant chunk of my income for the improved quality of life I have," says Devesh Ramnath, MD, an orthopedic surgeon from Dallas, Texas, in a recent NPR article.
Have you used the services of a medical scribe? If so, please feel free to share your experience in our comments section below.