Earlier this year, Weatherby Healthcare surveyed consumers on what they liked and disliked about their medical providers, where they'd like to see improvements, and what would prompt them to switch to a different physician. It probably comes as no surprise to anyone that long wait times ranked among the top complaints. Interestingly, it wasn't the amount of time confined to a waiting room that displeased respondents most. Rather, consumers complained nearly 30 percent of their appointment time was spent in an exam room waiting for a physician to appear.
Undoubtedly, physicians, office personnel, and hospital staff all would like to stay on schedule. That's easier said than done, especially when emergencies arise and take priority. Still, long wait times can depress patient satisfaction ratings, so it behooves private practices, clinics, and acute care facilities to make every effort to control how long people must sit before seeing a physician. Try incorporating one or more of these tips into your setting and see if wait times are lessened.
Assess systems — If you don't know where clogs are hampering your schedule, you cannot reduce wait times. Review office or department systems for bottlenecks. Are duplications slowing things down? Are there elements that can be streamlined or even eliminated to help cut wait times? Also, reevaluate the system from time to time to gauge where further improvements can be made.
Build in buffers — Scheduling management is definitely key to maintaining control over workflow, starting with the first appointment of the day. Avoid the pressure of having to treat people the second you and your staff walk through the door. For example, if clinical and administrative members arrive for work at 8 a.m., don't make the first appointment for 8 a.m. Allow people to get readied, even if it's only 15 minutes or so. This helps prevent falling behind from the get-go, which makes catching up all the more difficult. Also consider adding a buffer on each side of the lunch hour. A period without appointments before breaking midday gives everyone time to catch up from the morning, and a brief period immediately afterward allows staff to settle in once again.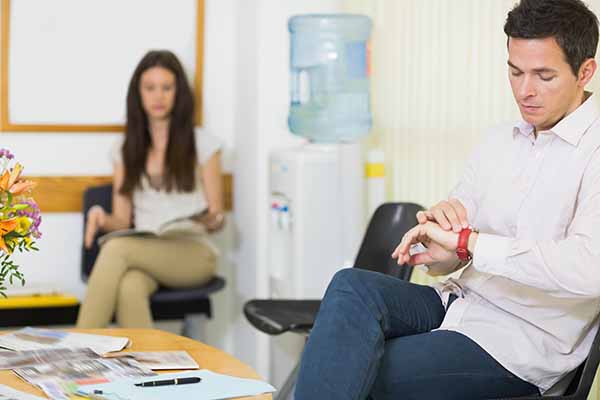 Stagger patient scheduling — While it's not possible to always accurately estimate how long a patient session will last, try to find a pattern that minimizes wait times. Time management experts suggest it may be more effective to book one patient every five to 10 minutes, especially for common complaints. This keeps the workflow moving more smoothly than trying to cram in two or three patients every 15 minutes. Also, double-booking appointments can slam on the brakes to a well-running schedule
Prep patients — Utilize patient portals as well as communication via emails and text messages to get patients started on the necessary paperwork and other appointment preparation, such as medical history updates or insurance policy changes. If this can be completed and sent in electronically ahead of their appointment arrival, then it's one less step during the allotted time that could postpone an exam.
Delegate care — Whenever possible and appropriate, delegate cases to mid-level providers, which frees up physicians for serious or critical cases without creating longer wait times. This can be highly effective for busy emergency departments that experience everything from flu to trauma. It also can work for practices and clinics during periods of high activity. For example, if flu season predictably presents greater demand, consider bringing in a locum tenens nurse practitioner or physician assistant for a short-term contract to help improve patient wait times.
Maintain focus — When physicians fall behind, then patient wait times grow incrementally. One way to prevent this is to stay focused on patients' primary complaints. It's easy to have an appointment run long when patients ask about non-urgent conditions other than why they made the appointment. Recommend individuals arrange a separate appointment for these additional concerns so you can stay on track and not extend other people's wait times.
Explain delays — Most people realize situations arise that create delays, especially medical emergencies. Frustration typically stems from a lack of knowledge. In the emergency department, individuals with non-critical cases may be more understanding about their waits if they're informed that emergency or trauma patients need immediate care. In a clinic, if people know providers are running late, they can make an informed decision as to whether they prefer to continue waiting or reschedule. The more information shared, including a general estimate as to how long the extended wait time will run, the more likely people will feel better about waiting for their turn to be seen by a clinician.
Create comfort — Make the wait time more tolerable by creating a pleasant atmosphere. Provide something to occupy people's attention while they wait. If you supply magazines, make sure they're current. Invest in wifi for your office or department so patients and family members can log on with their tablets or smart phones while they wait. If someone seems particularly anxious or agitated due to a prolonged delay, instruct a staff member to speak with them to ease concerns. Many times, a little acknowledgement goes a long way to assuaging frustrations, even if it can't decrease wait times.
To learn more about what patients are looking for in a physician and facility, view our full Portrait of the Modern Patient report.