Think your commute is long? Three Weatherby Healthcare coworkers in our Fort Lauderdale, Fla., office decided to celebrate Earth Day by walking 36 miles from West Palm Beach to work.
"After reading the article on [parent company] CHG Healthcare Services' intranet about coworkers Carrie Koncar, Sam Schwendiman and James Boley walking 30 miles to work on Earth Day, a group of us on the project management team decided to take on the challenge," Justin Vida, a manager who made the trek, recalls.
"Our company is a huge proponent of both healthy living and giving back to our community and this earth. By doing this walk, we were able to bring light to both aspects."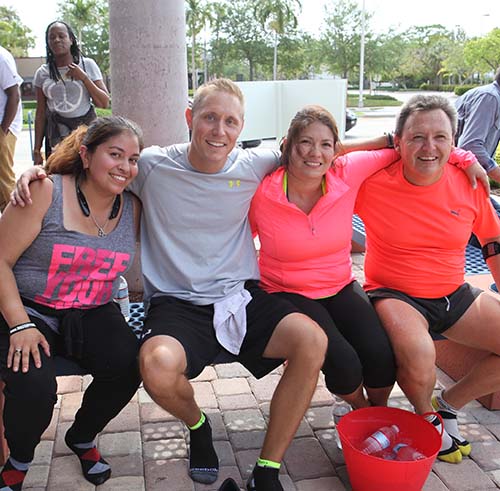 Justin, Vanessa Perez and Diana Venegas, along with Diana's husband, Andres, began their commute late April 21 and walked more than 12 consecutive hours to arrive at the office the next morning.
Vanessa says that they pointed out some of the beautiful homes they passed along the way and, probably not coincidentally, talked about food to pass the time.
"We definitely were forced to deal with each other's strengths and weaknesses. It was good to see our team supported one another and kept each other motivated even when we were feeling drained," Vanessa shares. "I felt like I was out there with friends, not just coworkers, which made me feel safe the entire time."
Diana was fortunate to have her husband walking with her but says the hardest part was managing the aches and pains that appeared as they walked.
"The blisters, especially, made it really difficult to walk at a faster pace, but I will do it again," she says. "Next time it will be with a little more preparation: more training, better shoes and more Gatorade!"
Check out this story about Justin, Vanessa, Diana and Andres in the Palm Beach Daily News to learn more about their Earth Day walk.